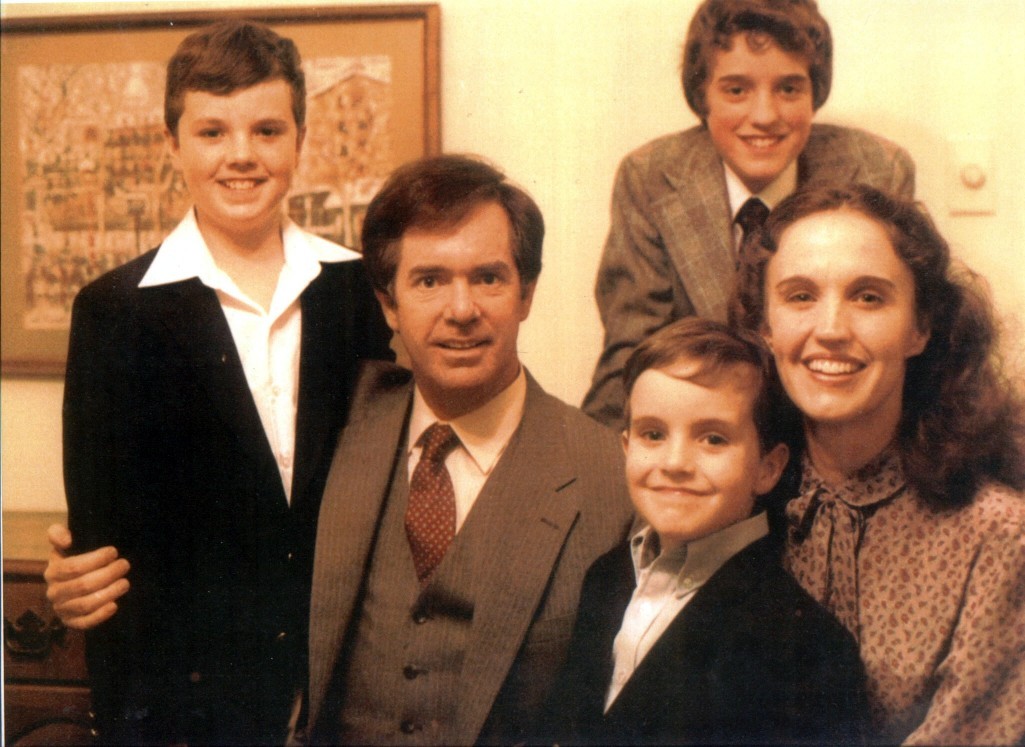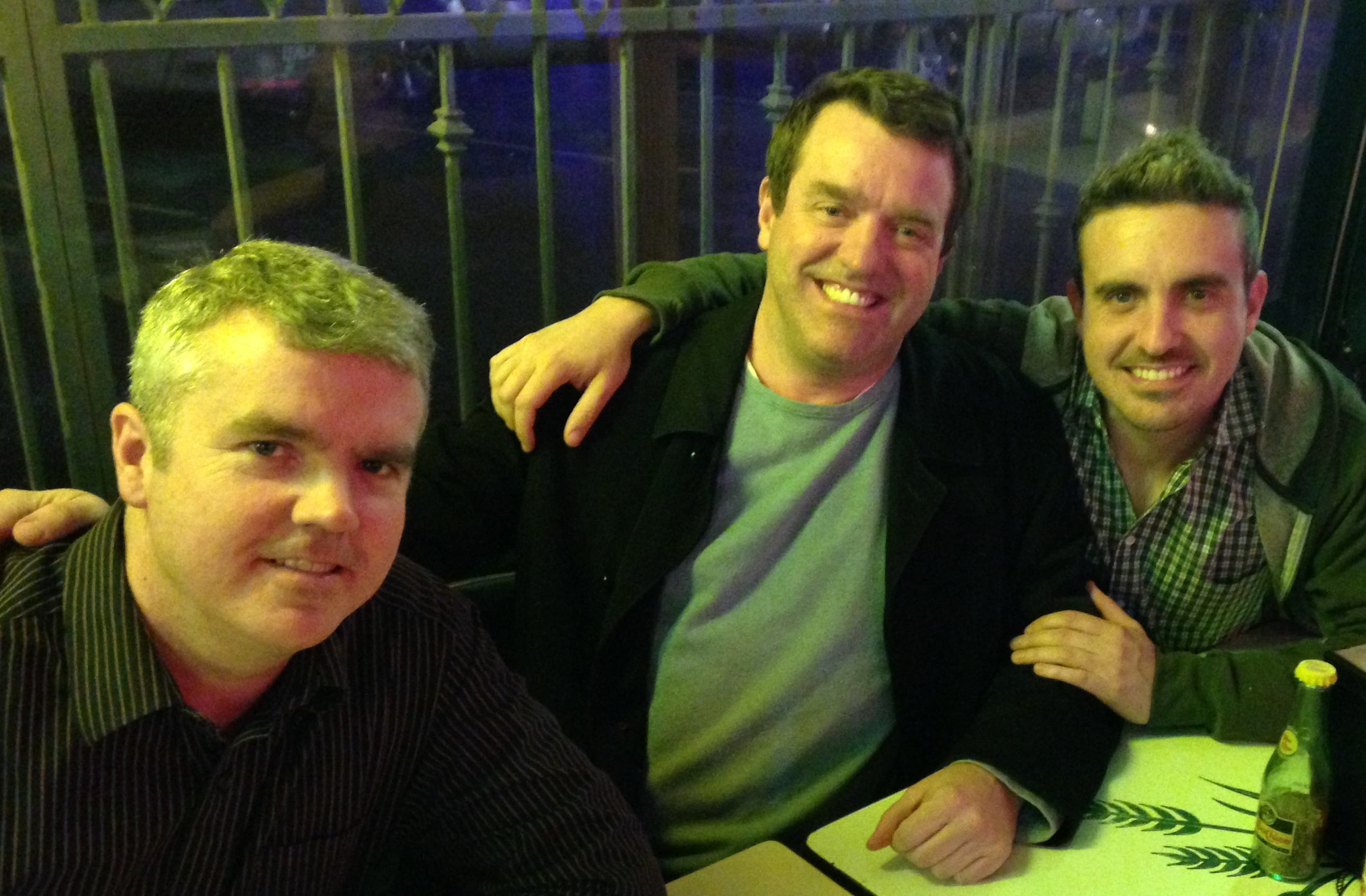 So here's the rest of story, so far, starting back in 1969:

Kevin did go to Korea. I was pregnant by this time and wasn't allowed to go with him, so I went back to Beaumont and lived at home for a year, during which Michael Christopher Cooney was born (just nine months after my mother gave birth to my youngest brother, Michael's "Uncle William"). Kevin got home for good in May of 1970, and for the next ten years we lived in Houston and acted in local theater at night and worked various day-jobs to pay the rent: I taught creative dramatics to children at Theater Under the Stars; Kevin was a cost engineer. We also both went back to school. I graduated magna cum laude with a B.A. in English from UST in 1972--I know I'm bragging, but I'm still pretty proud of that--just six weeks after the birth of our second son, Brian David. (Now THERE'S something to brag about.) Meanwhile Kevin took graduate courses at the University of Houston and earned an M.A. in drama in 1974. But we kept our day jobs, just in case. And our night jobs, too. And our third beautiful son, Errol Andrew, came along in 1977 (destined to be a musician, we all said, since he was already kicking in perfect time--even before he was born--to Stevie Wonder's "Songs in the Key of Life"). . . .

And then in 1980, we turned in our respective two weeks' notice, packed up boys and books and frying pans, and hit the road for two and a half years, traveling all over the country with a theatrical touring company. It sounds nuts, I know--I guess it was a little nutty, looking back. But we all loved it. We home-schooled the guys, learned to cook spaghetti in a hotplate, fed pelicans in Florida, saw the Grand Canyon, drove across the Golden Gate Bridge, and had the time of our lives.

This took us eventually to New York (where Kevin made his Broadway debut in 1981) and then--in March of 1983, just in time for the northeast's biggest blizzard in 30 years--to our new home in Katonah, Westchester County, about an hour's drive north of NYC. It was a great old place, a wonderful, rambling farmhouse that our dear actor/director friends and mentors, Peter Masterson and his wife, Carlin Glynn, had fallen in love with and invited us to share with them and their children (Lexie, Mary Stuart, and Peter Jr). It had a trout stream out back, woods to explore, apple trees for the kids to climb. Anne Shirley would have loved it. And it was there--I was 34 now--in a cozy little sunporch on the second floor, that I began writing again.

Well, not AGAIN, exactly. I'd never stopped altogether; in all those years since getting that first case of writer's block with "The Friends", I'd written thousands--probably millions--of words: letters and nonsense rhymes and scribbles of all kinds, as well as a half dozen plays for my young theater students. But there was something about that house--which really COULD have been Green Gables, in a lot of ways--and somehow all the old dreams started resurfacing . . .

And they really ARE the same, in a sense--writing and dreaming. And sometimes--even at nine and ten--we really DO know what we want to be when we grow up . . .

So when two more dear old theater friends of ours (Will and Patsy Mackenzie) happened to come to town, and introduced us to great friends of theirs (the writer, Judie Angell, and her husband, Phil Gaberman), I took a deep, deep breath and told Judie about my dreams. And she suggested I take them--and some of my typed-up scribblings--to her editor and friend, Richard Jackson . . .

Who was (though I was too dumb to realize it at the time) only the smartest, kindest, funniest, most patient, and absolute BEST editor and friend in the world of children's literature--and any world, for that matter--as anyone who's ever worked with him will tell you.

He didn't publish any of those first efforts of mine (a good thing, I realize now, since I was trying and failing to be the new Dr. Seuss, even though--at the time--the old one was still alive and well and doing just fine without me). But fortunately I included the first twenty pages of a little chapter book, too, and Dick saw promise in those. Actually in just one paragraph, he told me much later.

Thank God for that one paragraph.

And so he encouraged me to keep trying, and trying again, while he read and listened and read some more, and asked all the right questions, and explained the unexplainable, over and over.

AND FINALLY . . .

A year and a half later, at the end of 1984, I finished my first book. It was about an eleven-year-old dreamer of dreams named Elvira Trumbull, growing up with her widowed father in a town I called Calder, Texas. And Dick liked it.

I named it The 25 Cent Miracle--for a lot of reasons, but mostly because it was one.

We've done eight books together now (I hope you'll read about them by clicking on the individual titles in the column on the right--after you've rested your eyes for a while and taken a walk or had a nap or eaten a pizza, maybe). And every one of them is a miracle--at least, to me, even though I still have lots of days when I'm just as blank and blocked and clueless as I was in the seventh grade. But now I know it's just part of the job, that's all, and that even OTHER writers--writers who actually know what they're doing--go through this all the time. And keep going anyway.

And even on the good days, the ones we live for, it's really hard work; I'm not about to tell you it's a breeze. And chances are it won't make you rich, either--at least, not in dollars and cents.

But on those good days, when the stories are dreaming themselves along in my head, coming together in ways I never expected . . .

On those fine days, when the characters start to SAY things and DO things I never planned at all . . .

On those miracle days, when I'm typing like crazy, trying to keep up, and telling myself to "WRITE! Just WRITE!". . .

Well, I told you I grew up believing everything was possible. And on days like that, I can't help thinking--like Jimmy in The Empress of Elsewhere--"Maybe it ain't happily ever after, but it'll sure do for now."


P.S. From 1991 until 2014, Kevin and I lived and worked in Los Angeles (the setting for both Earthshine and Ruby Electric). To see his film and TV credits in the Internet Movie Database, click here for the Kevin Cooney page.) We recently moved back to Houston, where we're still acting and writing, and are thrilled to call Texas home again.

Our sons are all grown now and doing great things in the world:

Michael lives in Deer Park, Texas, and teaches English in the special ed department at Deer Park High School. He is Dad (and hero and Little League coach) to three wonderful children: Mick, Stella Carroll, and Everett Walter.

Brian has also recently moved home to Houston, where he works as a computer whiz and videographer and also writes, performs, and records his own songs.

And Errol (the baby who was destined to be a musician) is now a world-class guitarist--thanks in no small part to his brothers, he says, who taught him to play. Featured in the November '07 issue of GUITAR PLAYER Magazine, "Super Sideman Errol Cooney" has appeared at the White House and on The Today Show, The Tonight Show, the Late Show with David Letterman, the Grammy Awards, and has worked with Willie Nelson, Phillip Phillips, Christina Aguilera, Beyonce, Lalah Hathaway, Goapele, Angie Stone, John Mayer, John Legend, Corinne Bailey-Raye, and many more. And in his greatest stroke of luck ever, while touring with Fantasia Barrino, he met her manager--beautiful Erin Lazarus--who is now his wife. Their son, Cullen Michael, is also a budding musician.

On the road again, full circle.

Remember "Songs in the Key of Life"--?

For the past eight years, Errol has been playing lead guitar for the one and only Stevie Wonder.