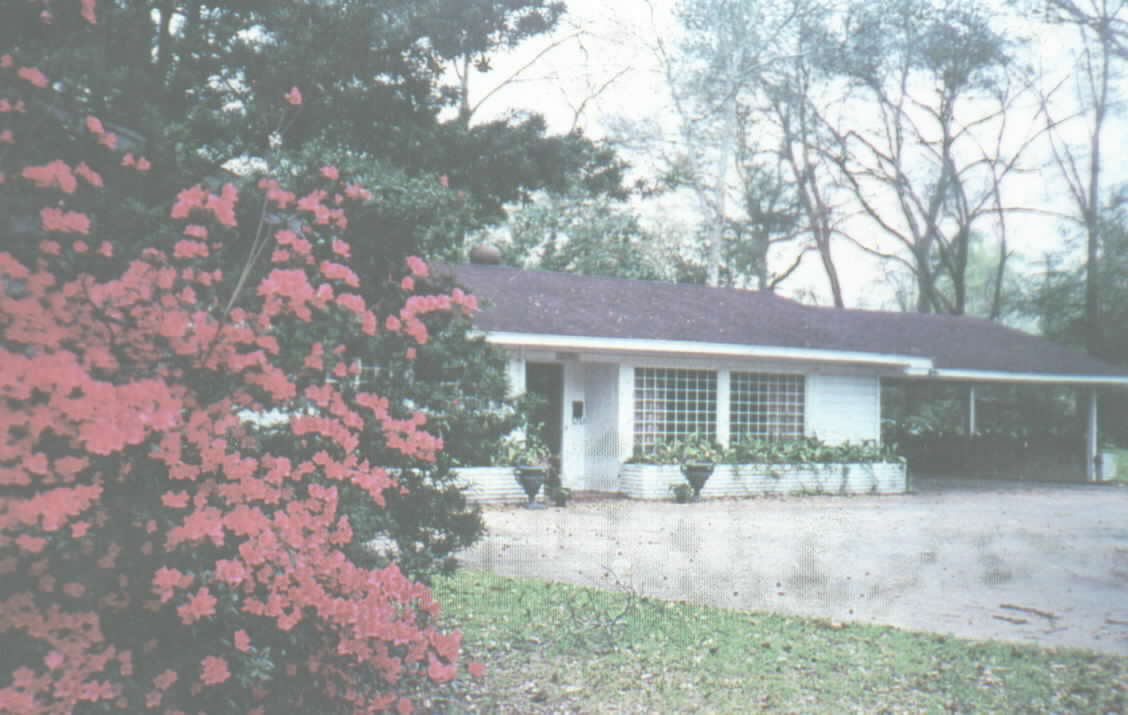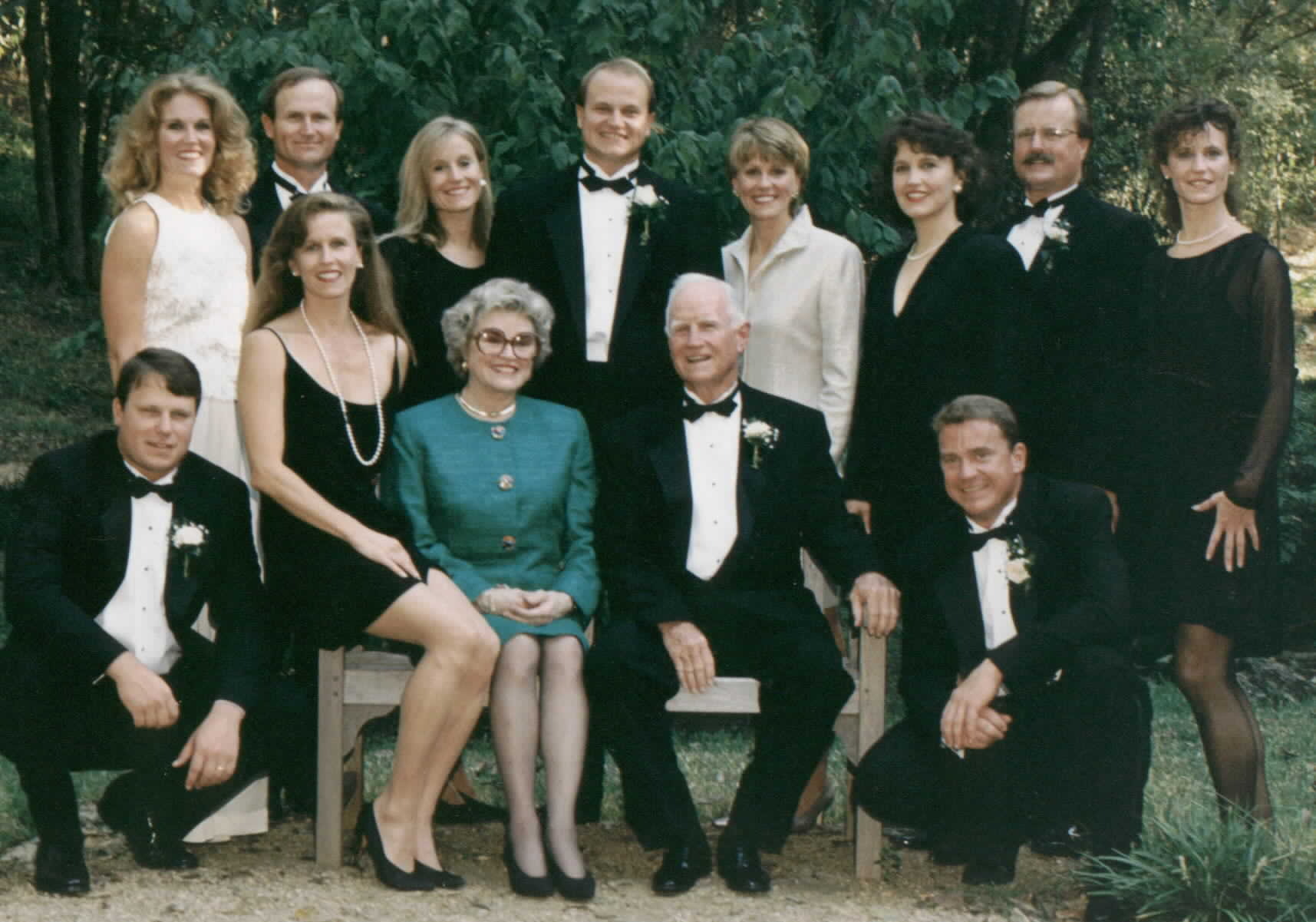 _______________________________________

I grew up believing that everything was possible. My family, like my home state of Texas, was larger than life.

There were eleven of us Nelson children in the big house behind the President Clay azaleas, where my mother still lives today. It's on 21st Street, in what was then--when we moved there in the early 50's--the spanking new Calder Place addition: City of Beaumont, Jefferson County. In those days our neighborhood was still being carved out of the southeast Texas marshlands and piney woods. Our block was full of just-built houses and still-vacant lots, cut down the middle by a huge forbidden drainage ditch, where we naturally spent as much time as possible. It had what seemed to us back then impossibly steep sides (we called them cliffs). They were hung with wonderful trailing vines, rumored to be poisonous, from which the biggest and bravest of the neighborhood boys, like my brother David, would swing, Tarzan-style, striking terror in the hearts of us chickens, watching in awe below.

When the ditch was hollowed out of the earth, bulldozers had piled up big mounds of dirt on either side of it--the closest things to hills we flatlanders had ever seen. We dug them full of foxholes, for our endless war games. We were all true Baby Boomers, children of the veterans who had just recently come home from winning what one of our confused classmates referred to as World War Eleven.

Bragging rights were hotly disputed--"My daddy's a bigger war hero than your daddy"--but we Nelson kids had a definite leg up there. Our father, David Rogers Nelson, Jr., was the genuine article.

Before we knew him, he'd been a Junior World Champion Calf Roper, the winner of the first-prize gold watch in the county-wide declamation contest, and the best and bluest-eyed tap dancer in his big sister Pat's dancing school. He was also very possibly the ONLY tap dancer in the United States Marine Corps, which he joined in the fall of 1941, the day after seeing a patriotic movie. (Was it Sergeant York, Daddy?)

Just in time, as it turned out, for him to be among the first Marines shipped to the South Pacific after Pearl Harbor. He fought in three of the bloodiest battles of the war--Guadalcanal, Tarawa, and Saipan--and was wounded twice, the second time almost fatally. "Nothing to worry about," he wrote his mother (Theresa Cullen Nelson) from the hospital ship Bountiful. And again later, after the new miracle drug penicillin had seen him through the worst of the danger: "Don't worry about your bachelor son. Just pick me out some brown-eyed beauty that doesn't mind waiting 3-4 years for a beat-up Marine and write reserved on her ticket."

And when the war finally ended, only one girl fit the bill: Alice Carroll "Kissy" Hunter, the prettiest, most popular girl in Beaumont. She was a dancer, too, a ballerina with real promise. Her teacher (who was later also mine--Miss Judith of the Sproule School of Dance) wanted to take her to New York City, so she might become the next Pavlova.

But luckily--at least for us eleven--on February 8, 1946, the brown-eyed beauty stayed home and married the beat-up Marine, instead.

My brother, David III, was born the following November. Ever anxious to tag along, I arrived on August 15, 1948, and was followed in turn by Frances, Hunter, Mary Pat, Carroll, Annie, Jane Cullen, James Keith (our "Bubba"), John Henry, and William.

My earliest memories are of stories and dreams, all mixed up together: Daddy making up silly songs and adventures about my brothers and sisters and me, and Mama reading to all of us--wonderful books like The Wind in the Willows, The Five Little Peppers and How They Grew, and her favorite, The Birds' Christmas Carol, which she never once got all the way through, because it made her cry so hard. Maybe Kissy never fought a war on FOREIGN soil, but she was--is!--a hero in her own right. Eleven children? Come on. Top that, General Patton!

My daddy once tried to add it all up: 68,000 diapers, 72,000 school lunches packed in Roy Rogers lunch kits, 1,359,000 fights over who gets to sit in the front seat. . . .

But it wasn't just the numbers that made her the best of mothers; she was more FUN than anybody, too--Lucille Ball and Erma Bombeck, rolled into one. Whether she was flying across the school stage in an all-mother production of "Aladdin" or nailing the vacuum cleaner to a skateboard, we all just naturally assumed she could do anything.

Once, when my little sister Annie was eight, she lost a tooth and, as usual, put it under her pillow. And then somehow--in the normal nightly chaos of spilled milk and last-minute science projects and who knows what all--it was forgotten. So of course she was heartbroken, and at five the next morning she came to our parents' room in tears. "Oh, sweetheart," said Mama, giving her a hug. "It'll be all right. Don't you know Mama is the Tooth Fairy?" And Annie looked at her with wide eyes and whispered, "Of the WHOLE WORLD?"

And oh, what a storyteller! When she told us all the legend of old Tom the Tramp, who back in 1900 had walked through the rising waters of the most monstrous hurricane in North American history, trying to save a family of children stranded on our own beloved Bolivar Peninsula, we could HEAR the thunder booming and TASTE the salt in the wind; we could FEEL the needle-sharp rain stinging our skin.

Click here to continue....